Download the 2017 Passaconaway Lodge Calendar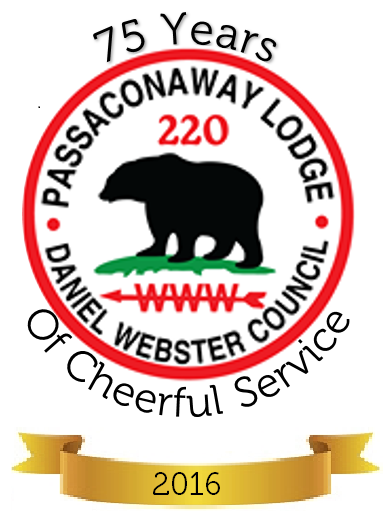 2018 Spring Fellowship Weekend May 18-21, 2018
The 2018 Spring Fellowship weekend is to induct Ordeal Candidates into Scouting's National Honor Society. Ordeal members seal their membership in the OA becoming Brotherhood members and for the loodge to give cheerful service in fellowship.

Please arrive between 6:00 and 7:30 PM Friday. Plan on staying through the Lodge Business meeting at 11:30 AM. on Sunday.

You may register on-line by clicking on REGISTER below. You may pay on line by using PayPal, Credit Card or checking account. If you do not want to pay on line, please select "mail/ off line" at checkout. If there is not enough time to mail it to the office with the attached registration form then bring cash or check to the checkin at camp.

If you purchased the 2018 Event Pass and you did not select the option for Brotherhood and you want to seal your Brotherhood this weekend there is no charge for dues paying members.

Click here to register!
New and Enhanced Mobile Black Bear Trading Post
Passaconaway Lodge now has a New and Enhanced Mobile Black Bear Trading Post!!

Click Here to access the online Trading Post for some of our Lodge Apparel items.

Stay Tuned as we add more and more choices and inventory to our new online store!!!
New Enhanced Elangomat Program
Last Sunday, March 19. the new Enhanced Elangomat program was presented.

The video to the left is the training presentation.

Click Here to to download the training presentation.

Also presented was the new Enhanced Elangomat Recognition Program.

The video on the left is the presentation.

Click here to download the Enhanced Elangomat Recognition Program.
National Leadership Seminar (NLS)
The National Leadership Seminar (NLS) is a weekend conference on the skills and attributes of leadership. It is intended primarily to enhance the leadership skills of the Order of the Arrow's key youth and adult members as they seek to improve their services to the Boy Scouts of America and the greater community. The weekend format is designed to complement the longer, more detailed Wood Badge and Junior Leadership Training programs. Near the end of the seminar, participants make a contract with themselves to apply the skills studied in the seminar on projects in the lodge, council, and community. NLS prepares Arrowmen to become better leaders both within and outside of the Scouting program.

The NLS will provide participants with:

A challenging, inspiring, and enjoyable learninig experience
A better understanding of the skills of leadership and how to apply them
A better understanidng of themselves and of other people
A realization that, with practice and work, everyone can improve their leadership skills
An understanidng that leadership skills work in tandem with one another, rather than in isoloation, apart from one another
An understanding that different sitatutions require the application of different leadership skills
A model with which to evaluate themselves and others in the use of leadership skils

When Can I Attend?

The Northeast Region will offer NLS at the following times and places:

March 10-12, 2017 - Alpine, New Jersey

November 10-12, 2017 - Alpine, New Jersey

If you are interested in attending this seminar, please contact Christine Wilson
Developing Youth Leadership Conference (Formerly NLATS)
What is the Developing Youth Leaders Conference?

The Developing Youth Leadership Conference will deepen an adviser's capacity to develop youth leadership within the lodge and chapter. Conference topics will include fostering a growth mindset, promoting resilience, providing constructive feedback that leads to changes in youth behavior and creating a life-long coaching/mentoring relationship. Conference participants will gain insights necessary to successfully coach youth applying the leadership skills they gained during the National Leadership Seminar.

The Developing Youth Leadership Conference will move us beyond lodge mechanics and operations to establishing a lodge and chapter culture that grows youth who are capable of establishing goals, building teams, and guiding the lodge's work to achieve Journey to Excellence. Prior participation in the National Leadership Seminar is encouraged, but not required.

Who Should Attend?

It is recommended that participants be lodge advisers or staff advisers and those with lodge adviser potential, as approved by the Lodge Adviser. Prior completion of a Lodge Leader Development Program and the National Leadership Seminar are required. The DYLC is an intensive experience in learning about the nature of lodge program, delivery of service to the council, and development of youth leadership necessary to both. While it is designed to be fun, the course is mentally challenging as well. Participants should be open to learning and prepared to actively engage in an invigorating weekend.

When Can I Attend?

The Northeast Region will offer the NLATS at the following times and places:

March 10-12, 2017 - Alpine, New Jersey

November 10-12, 2017 - Alpine, New Jersey

If you are interested in attending this seminar, please contact Christine Wilson
Passaconaway Lodge Annual Report
During the December Executive Board Meeting on December 14, 2016 at Camp Carpenter. Passaconaway Lodge Chief, Matt Lefebvre, presented to the Board the Passaconaway Lodge Annual Report outlining our fantastic year and what lies ahead for our great Lodge.

Click Here to download the presentation.
Pay your 2017 Dues Now!
It's time to renew your membership in Passaconaway Lodge for 2017! Paying dues entitles you to all the benefits of lodge membership, including attending lodge events, participating in OA High Adventure programs, and representing the OA in your troop. You must be currently registered in the BSA to be in the OA.

To celebrate our 75th Anniversary we are offering a 5 Year Dues Plan at a special cost of $60. Each year of dues is contingent upon continued registration in BSA.

Every dues paying member of 2017 will receive a free Annual Member patch. Any member that takes advantage of the 5 Year Dues Plan will receive the complete 5 year patch set for 2017-2021. The entire patch set is themed on our beautiful Daniel Webster Council camps. So get them one at a time each year, or all 5 at once!

If you prefer to not pay online, continue with the on-line registration and select Pay by Mail, print your receipt and send it with your payment to the Council office.

Click Here to Pay

Pay your dues by December 31, 2016 to take advantage of the EARLY BIRD DISCOUNT!


Last updated on May 22, 2017